Chairman's Note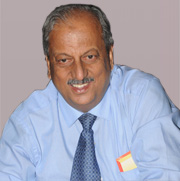 I was wondering what is so unique about us. The answer was "Unity, Focus and Innovation". While thinking further I was convinced that this uniqueness is equally applicable to Shalimar and similar organizations.
You all will agree with me, that like any nation, organization also aspires for Sustainability of its existence. Of course, with changing times, the concept of Sustainability has to be achieved only through the process of survival and growth matching with passage of time. This adaptability ultimately enables the survival.
It is interesting to note that while Unity is the bonding and integrating force, Focus brings innovation, creativity and collective participation.
At Shalimar it's what drives everything we do, from developing products to fostering sustainability. Shalimar strives hard to fulfill all the demands of the clients timely. To meet the requirements of clients Shalimar procure high quality products from certified vendors. The products are stored in our spacious cold store that is equipped with all the latest facilities.
We import & distribute the products only after checking their quality standards with our ethical business strategies and transparent working policies, we have gained huge client base across the Bihar. Due to our Quality range, Service & Pricing we have been successful in increasing our distribution day by day.
Shalimar maintains healthy and cordial relations with its clients and present them with an outstanding range.
Coupled with Great product range and great staff, Staff health and well-being is equally important to us. We encourage all the staff to actively participate in spreading safe working environment across all areas of business.
People are the greatest asset we have acquired over the no. of years. We pride ourselves to work with people to achieve greater height.